Bring your ideas to life faster with XI-MACHINES High-Performance Workstations featuring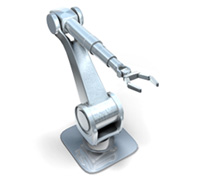 latest multi-core technology and powerful graphics accelerators. Even complex 3D-scenes with high polygon counts can be edited and rendered quickly.
Tight deadlines and schedules require fast graphics accelerators (for realtime viewport performance, high-quality display and GPU-accelerated plugins, particle engines and renderers) as well as fast multi-core CPUs (quick previews for stills and animation, fast render times for final output).

In addition, our redundant HDD (hard disk drive)/SSD (solid state drive) systems offer ultra-fast access times and high data transfer rates with up to multi-terabyte configurations and RAID configurations (e.g. up to 12 physical drives with dedicated RAID controller in your X3 workstation).
Depending on the workstation model memory can be configured up to 192GB RAM (Windows 7x64 Professional limit) or even beyond using Server OSes (up 1TB with X2/X3 workstations). Thus even the most complex geometries and scenes can be rendered.
To achieve a maximum level of realism, highest grade of details and highest image quality - it needs multi-core CPUs with high computing performance, stability and energy-efficient architecture. XI-MACHINES offers workstations with 1 or 2 CPUs (4 cpu sytems upon request), our engineering, optimized cooling solutions and noise insulations ensures quiet operation even at full load. Out workstations easily integrate in your workflow and can be placed right at your desk, without the need for a dedicated machine room or expensive studio wiring. If you have a equipment room, cooled rack or if you need render servers/farms aiming for maximum performance with minimum rack space requirements - we also offer rack solutions, e.g. render servers with up to 4 nodes and 8 CPUs in a single 2U rack enclosure (up to 64 cores/128 threads).

Our workstations/servers support all leading 3D animation and CAD/CAE/CAM/PLM applications such as: Autodesk 3DS Max, Maya, Softimage XSI, AutoCAD, Inventor, MAXON Cinema 4D Newtek Lightwave 3D Rhinoceros Rhino Side Effects Houdini, Bentley Microstation, Cimatron, Co / Create, Dassault Systemes CATIA, Dassault Systèmes SolidWorks, PTC Pro | Engineer, Siemens PLM Software's Solid Edge, Siemens PLM Software UGNX, Autodesk Mental Ray, cebas final render, chaos group V-Ray Next limit Maxwell Render etc.
3D Modeling/Compositing, Visualization, motion graphics, architecture, film/TV, product design, digital prototyping, game design or research - With XI-MACHINES high-performance workstations producers, designers and artists can make their visions come true - whisper-quiet even under full load.