Therefore, XI-MACHINES High-Performance Workstations are the first choice when it comes to maximum performance at minimal noise levels.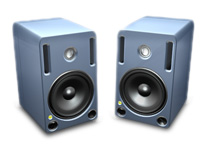 Thanks to the optimized cooling and noise insulation of our stylish caes, our 64-bit workstations fit seamlessly into any audio studio. Whether as a tower (on or below your desk) or as 19-inch rack case.
Depending on the model you can configure your storage up to multi-terabyte range for large sample libraries and audio projects. Our redundant hard disk drive (HDD) or solid state drive (SSD) systems offer ultra-short access times, as well as extremely high data transfer rates, to allow the processing and mixing of even the most complex arrangements.
With XI-MACHINES high-performance workstations, the maximum computing power for complex effects and virtual instruments is just a click away. Whisper-quiet performance right at your desk, in your control room or in the recording room. This eliminates the need of a classic machine room with an elaborate and expensive studio wiring. Of course we also offer 19-inch rack versions of our workstations/storage servers to integrate into your existing racks or equipment rooms.
Our workstations support all major manufacturers of audio software and hardware, such as: Ableton, Algorithmix, Cakewalk, Digidesign, M-Audio, Motu, Native Instruments, Propellerheads, RME, Steinberg, Solid State Logic (SSL), tc electronic, universal audio (UAD), Vienna Symphonic library (VSL), Waves, and much more.

-> 64Bit Workstations for professional audio production
-> 64Bit Workstations certified for Vienna Symphonic Library
-> Solid State Logic certified systems (Live-Recorder, Workstations)