XI-MACHINES Workstations - the ideal companion for Video Editing / Compositing as this complex field requires the highest level of performance from all components of the systems (CPU, memory, graphics accelerators, storage, interfaces...).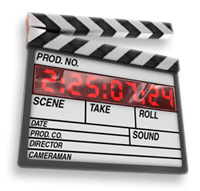 Only the most powerful processors allow real-time calculation of high quality effects such as 2D/3D transformations, color correction, particle systems...
Furthermore, a real-time preview of various layers is only possible with modern graphics accelerators. To handle footage, proxies, render output with the highest performance you need redundant hard disk drive systems with high data throughput and short access times.

Therefore, we offer workstations with up to multi-terabyte storage capacities and extremely high data transfer rates for large SD/HD/2K/4K video projects. Due to the optimized cooling and noise insulation of the stylish aluminum cases , our high-performance workstations integrate seamlessly into any video studio. This eliminates the need of a classic machine room and an expensive studio wiring. Of course we also offer 19-inch workstations and rendering/storage/media servers for integration into existing equipment/machine rooms.
Our workstations / servers support software and hardware from all major manufacturers, such as Adobe After Effects, Adobe Creative Suite, Adobe Premiere Pro, Autodesk Combustion, AJA XENA, AVID Liquid, AVID Xpress, AVID Media Composer, Blackmagic Design, eyeon FUSION, Sony Vegas Pro, The Foundry NUKE and many more.

For all post production houses, editors, producers, film makers or broadcast studios: XI-MACHINES offers the perfect solution for professionals - Maximum computing power, maximum data transfer - Whisper quiet.