Professional digital signage solution in an extremely small form factor. The
VBOX-DS MINI features an ultra compact chassis (Height: 62mm, Width: 192mm, Depth: 210mm), designed to offer flexibility, reliability and optimal performance.
The ideal platform for media playback and simple Ventuz realtime 3D scenes. The perfect out-of-the-box Ventuz experience.
VBOX-DS MINI - Made by professionals for professionals!
DISPLAY OUTPUTS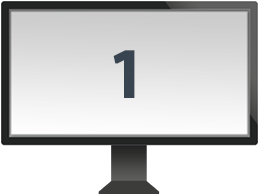 Application
Digital Signage
Small Ventuz realtime
3D scenes
Full HD Media Playback

Options
VESA Mounting solutions
SSD-Upgrades
WiFi-Module (WLAN)

Size & Weight
Height:
Width:
Depth:
62 mm
192 mm
210 mm
2.44"
7.48"
8.27"

Weight:
incl. PSU:

1,5 kg
2,0 kg

3.30lbs
4.40lbs

Technical Specifications
Processor:
Intel Core i3 Dual-Core Processor (4 threads)
Memory:
8GB High-Speed DDR4 SO-Dimm memory, 2133MHz
Storage:
1x internal 128GB High-Performance SSD (mSATA)
(alternative configurations upon request)
Expansion:
-
Graphics:
Intel HD530 (CPU integrated)
1x HDMI 1.4a
Audio:
HD Audio Realtek ALC662
Connections:

4x external USB 3.0 ports

5x internal USB 2.0 via headers
Gigabit LAN, Audio

Operating System:
Windows 10 Professional 64Bit, preinstalled, optimized
PSU:
External laptop power supply (100-240V)
Gehäuse:
Mini form factor, ultra small chassis, black