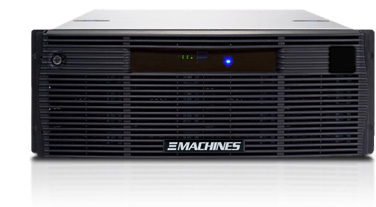 Custom Storage Solutions

Many IT infrastructures work with a centralized file server or strorage solution. In network-based workflows the local workstation offers the needed CPU- and graphics performance wheras the actual data (footage, simulation data, video content, audio libraries etc.) is hosted on the network storage.

High performance of storage, data redundancy, network connection speeds (GBit, trunking, 10GBase, Fiberchannel, Infiniband...) and security are central requirements as well as large capacities.

XI-MACHINES Storage-Server can be equipped with 1 up to 4 Multi-Core CPUs. The centralized file storage is based on high-performance RAID arrays in redundant RAID 5 or RAID Mode Mode 6. Depending on the required storage space our storage servers are equipped with 8 to 50 hard disk drives or SSDs.
XI-MACHINES Storage-Server are built in space-saving 19-inch form factor. Depending on the desired features and expandability the servers come with a height of 1U to 9U. Redundant power supplies ensure a fail-safe, continuous operation.