Mit XI-MACHINES High-Performance Workstations kommen Sie schneller ans Ziel, denn aufgrund modernster MultiCore-Technologie und leistungsfähiger Grafikbeschleuniger werden selbst umfangreiche 3D-Szenen zügig dargestellt und ausgegeben.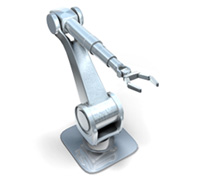 Bei den heute oftmals engen Zeitplänen ist schon beim Modelling eine möglichst realistische Darstellung von Objekten in Echtzeit gefragt. Neben der hohen Anzahl darzustellender Polygone spielen unter anderem auch hochauflösende Texturen eine Rolle. Je nach Ausbaustufe stehen deshalb XI-MACHINES High-Performance Workstations modernste Grafikbeschleuniger mit up to 4.0 GB Arbeitsspeicher zur Verfügung. Zudem besitzen unsere redundanten hard disk drive-Systeme ultrakurze Zugriffzeiten, sowie Datentransferraten im Terrabyte Bereich und erlauben so unter anderem das schnelle Laden umfangreicher Objekt- und Textur-Setups. Desweiteren lassen sich unsere Workstations je nach Modell mit up to 192 GB Arbeitsspeicher ausstatten, um die Bearbeitung selbst komplexester Geometrien zu ermöglichen.
Um die finale Ausgabe erstellter Szenen mit maximalem Realismus zu berechnen, sind processoren mit hoher Rechenleistung gefragt. Aus diesem Grund stehen Ihnen mit XI-MACHINES High-Performance Workstations je nach Ausstattung zwischen ein, zwei oder gar vier Multi-Core CPUs zur Verfügung. Hierbei fügen sich unsere Workstations dank der aufwendigen System-Kühlung und Geräusch-Optimierung nahtlos in jedes DCC- und Entwicklungs-Studio ein. Somit entfällt die Notwendigkeit eines klassischen Geräteraums mit einer aufwendigen und teuren Studioverkabelung. Sollte in Ihrer Infrastruktur schon ein Geräteraum vorhanden sein oder sollte es auf die reine Rechenleistung ankommen, bieten wir Ihnen mit unseren Single- bis Quad-Node Render-Servern die richtige Plattform um auch aufwendigste Szenen in kürzester Zeit zu berechnen. Je nach verwendetem Render-Server stehen up to 48 physikalische processor-Kerne mit insgesamt 96 threads (Intel Hyperthreading Technologie) zur Berechnung zur Verfügung!

Unsere Workstations/Server unterstützen alle namhaften 3D-Animations- sowie CAD/CAE/CAM/PLM-Programme wie zum Beispiel: Autodesk 3DS Max, Maya, SOFTIMAGE XSI, AutoCAD, Inventor, MAXON Cinema 4D, Newtek LightWave 3D, Rhinoceros Rhino, Side Effects Houdini, Bentley Microstation, Cimatron, Co/Create, Dassault Systemés CATIA, Dassault Systemés Solidworks, PTC Pro|Engineer, Siemens PLM Software Solid Edge, Siemens PLM Software UGNX, Autodesk mental ray, cebas Final Render, chaosgroup V-Ray, Next Limit Maxwell Render, etc.

Seien es Visualisierungen für Bereiche wie Motion Graphics, Architektur, Film/TV, Konstruktion, Digital Prototyping, Spiele-Design oder Forschung – Mit XI-MACHINES High-Performance Workstations können Produzenten, Konstrukteure und Künstler ihre Visionen wahr werden lassen – und das selbst unter Volllast flüsterleise.